live sound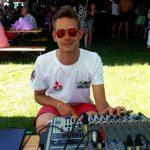 Description:
I have been doing outdoor events since I was 20, learning as I go. from there to small live shows, installations, repairs and some major events such as Wines2Wales. I am great with setup, figuring out placement and the minimum requirements for each gig while staying within the clients budget and needs.
Description:
I'm a sound engineer with acquired N6 sound engineering diploma. I just finished my studies last year December.
I work well with people and I strongly believe in team work, I'm deadline driven. I approach every interaction as a learning opportunity!
I'm currently vacant for employment in studio work and live sound.
Thank you!