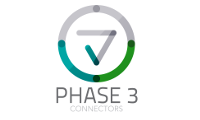 Visit the Phase 3 Connectors website
DWR to officially distribute Phase 3 Connectors
UK based Phase 3 Connectors, industry leaders in quality and safety for high current connections up to 800A, have officially appointed DWR Distribution as their South African agent.
Said Robert Izzett, Head of Sales at DWR, "While we've been selling Phase 3 items for a number of years, we were recently appointed the authorized distributors in SA. Phase 3 Connectors need little introduction. The products are outstanding, designed, manufactured and assembled in the UK. These products are the unsung heroes at events."
Phase 3's Power Connectors product range includes standard and special application, harsh environment connectors for Power, Signal, Optical and Data transmission. In addition, Phase 3 offers complete interconnect system solutions, including cabling and distribution equipment.
Within the Phase 3 Connectors range the company offers industry-standard Powersafe single pole connectors (powerlock compatible), Rotalock single pole connectors, Powersafe Box Sequential Mating Units, Network Devices for electrical utility companies and Multi-Pin Circular Connectors for lighting and stage application (socapex compatible).
For more information, visit: https://p3connectors.com