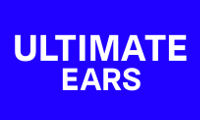 Visit the Ultimate Ears Website
For over twenty years, Ultimate Ears Pro has taken the performance of in-ear monitors to a new level. Over 100,000 sets of Ultimate Ears Pro in-ear monitors have been used across the world and now it brings DWR Distribution great pleasure to offer this brand to the South African market.
Artists like Peter Gabriel, Twenty One Pilots, Coldplay, Celine Dion, Green Day, Hillsong United, Mumford & Sons and Taylor Swift are just a handful of artists who have used this technology that offers clear and dynamic sound. Ultimate Ears Pro in-ear monitors are also used by praise and worship teams, helping musicians and pastors on the stage to carry out their missions.
Sound Engineer Jaco Beukes, now a sales representative at DWR Distribution, previously worked as freelancer for six years. "I bought my first set of Ultimate Ears in 2008 and then bought my first custom Ultimate Ears in 2011," he said. "Having experiencing first-hand the benefit of custom in-ear monitors made by Ultimate Ears, I've tried very hard to get all artists and engineers on board!"
Jaco is very excited to continue with this 'personal' mission now under the DWR flag.
"DWR are known for their service and support and it made sense to add Ultimate Ears to our inventory, enabling me to take care of our clients on an even more personal level," he said. "We have not looked back as requests have already started rolling in at a rapid pace."
Each earpiece is custom-molded and handcrafted to uniquely fit into your ear. "Most users can't believe they managed without Ultimate Ears for so long," Jaco ended.