Who would have thought that after 13 seasons, Idols SA would be even more popular than ever – one hundred million votes were cast over the whole season – and the finale was hosted at Carnival City on the 19th November. For the eighth-consecutive year, lighting designer Joshua Cutts and technical and set production company Dream Sets, worked for producers SIC Entertainment to ensure another successful broadcast on the Mzansi Magic network.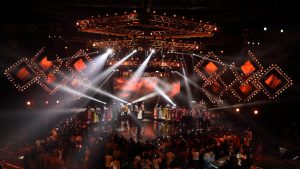 "This has been a great platform for me to learn and discover new things about lighting design," said Joshua Cutts. "I am so comfortable in the environment that I am able to take more risks and try more 'scary' types of lighting styles."
Previous two seasons has seen the design comprising of curved and half-circle shapes creating a soft edged set. "For the finale this year, we turned things around and went for squares, diamonds and a hard edge."
A prominent feature is a chandelier shape structure in the centre of the room. It consists of four Prolyte square trusses (2m, 4m, 6m and 8m) starting with the smaller squares at the bottom. "This was our main mechanism for many of the tricks we did," said Josh. "One of the highlights was a massive curtain drop or a 'kabukie drop' as it is known with a performer hidden inside the 8m square. Because we had the 8m square in the centre of the room, we decided to make curtains and it ended up being a striking white cube. We lit it in red and on cue, dropped the curtains to reveal the artist. It was a great moment in the show and worked exactly as we had envisioned it to."
The lighting equipment was very similar to previous years. "This time I used 12 Philips Vari-Lite VLZ Spot as my key light which was great," said Josh. The Robe rig was faithful as always and included 42 x Robin ParFect 100 as audience blinders and 30 x Robe Pointes. Other fixtures included 18 x Robin LEDWash 800, 16 x Robe ColorWash 2500E AT, 12 x Robe ColorSpot 700E AT, 6 x Robe ColorBeam 700E AT, 12 x Robe MMX Spot, 30 x LED Beam 100, 96 Longman LED Parcans, 28 Longman Colorme 11 and 12 x Philips SL Nitro 510C strobes. A vital part of the mix was the MDG Atmosphere, an industry standard haze generator.
"I also created LED pixelblocks which I used across the audience during the season – this gave me a total of 640 different RGB pixels." For the final night, the pixelblocks were redistributed and used to cover ten large diamond set pieces on stage, allowing Josh to video map the entire rig. "I used the grandMA2 to video map the whole set with the MA VPU, which has become a very trusty tool of mine." Control for the event comprised of a grandMA2 full size, grandMA2 light, MA2 VPU and 2 x MA2 NPU.
Idols SA has been renewed for yet another season with auditions kicking off as early as January 2018. "It has been wonderful to work on this show," said Josh. "It's more like working with family and I'm grateful for the people who make it possible. Thank you Eben Peltz, Sean Hoey and the Dream Sets team."
Congratulations to 17 year old, Paxton Fielies, crowned the winner of this season.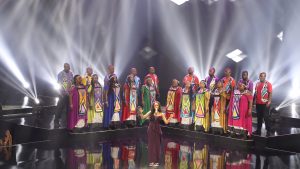 Photos: Duncan Riley