Prolyte Rigging Training Cape Town
February 6, 2017

-

February 11, 2017

R9300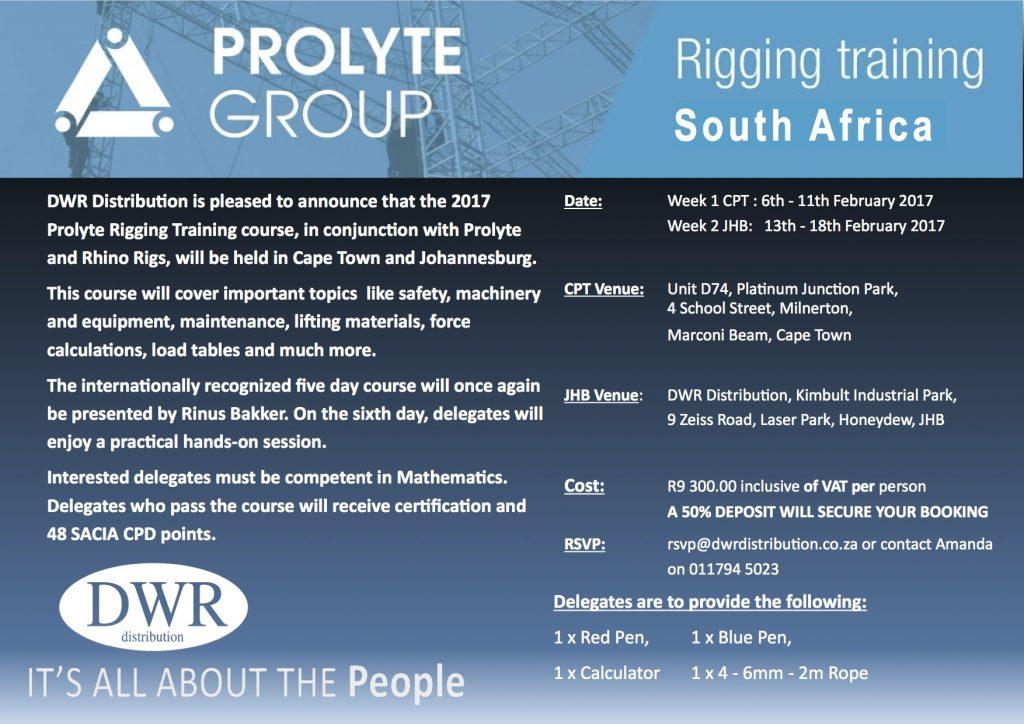 DWR Distribution takes pleasure in announcing the Prolyte Rigging Training Course which will be held in both Cape Town and Johannesburg in February 2017.
This internationally recognised five-day training programme will once again be presented by Rinus Bakker and will cover important subjects like safety, machinery and equipment, maintenance, lifting materials, force calculations, load tables and much more. On the sixth day, delegates will enjoy a practical hands-on session.
Interested delegates must be competent in Mathematics. Delegates who pass the course will receive certification and 48 SACIA CPD points.
Cape Town:                 Week 1 CPT : 6th – 11th February 2017
Johannesburg:             Week 2 JHB: 13th – 18th February 2017
Cape Town Venue: Unit D74, Platinum Junction Park, 4 School Street, Milnerton, Marconi Beam, Cape Town
Johannesburg Venue: DWR Distribution, Kimbult Industrial Park, 9 Zeiss Road, Laser Park, Honeydew, JHB
Cost:    R9 300.00 inclusive of VAT per person. A 50% deposit will secure your booking.
Delegates attending should provide a calculator, 2m rope (6mm), a red pen and a black pen.
For more information or to book your spot, please contact Amanda at rsvp@dwrdistribution.co.za or call her at 011794 5023
Would you like to comment on the training we offer? Perhaps you'd like us to add training in a specific field. Please fill in the form below, and we'll get in touch!